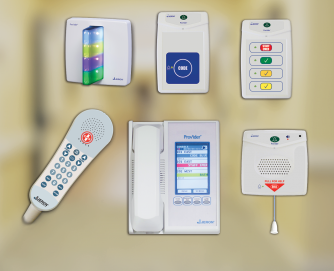 NILES, Ill.
-
illiNews
-- In early 2020, Jeron Electronic Systems' newest nurse call platform was introduced and has been installed throughout North America. Expanding on Jeron's decades of nurse call design and manufacturing experience, the Provider 700 Nurse Call solution has already delivered on its objectives as a value driven, flexible, and scalable platform to meet the needs and varied configurations for acute, skilled, and sub-acute healthcare facilities. Provider 700 leverages the latest in networking and wireless technology to streamline alerting, communications, and workflows between residents, patients, and caregivers.
Myles Cochran, Director of Jeron's Marketing Department, remarks, "As the newest addition to Jeron's respected line of nurse call platforms, the Provider 700 offers a very flexible solution with simplified installation and support…it scales to meet the varied needs of a skilled nursing facility, rehabilitation center, a sub-acute facility, or a critical access hospital." In addition, "This type of scalability in our nurse call lines is why they are currently being used in many temporary COVID-19 facilities. Our simplified installation and operation makes it an easy choice."
More on illi News
The Provider 700 Nurse Call platform features:
Color touchscreen operation – making it quick and intuitive to respond to patient/resident calls and access system features
Network backbone – allowing the system to easily scale from a single nursing unit to covering an entire healthcare campus
Integrated workflow and patient/resident status – going beyond traditional nurse call to support increase staff efficiency while promoting resident/patient safety and satisfaction
Digital audio – for clear communication between staff and patients/residents
Integration with the most popular in-house wireless alerting and communication options: routing resident/patient calls directly to the assigned caregiver(s)
Built-in diagnostics and remote system administration for easy troubleshooting to ensure 24/7 system availability
Jeron's assurance of quality with an Underwriters Laboratories UL1069 nurse call listing and industry-leading 5 year warranty
The Provider 700 system is available through Jeron factory-trained and certified distributors providing local service and support. Jeron Electronic Systems, Inc. is a proud family run business that has been manufacturing and designing communication systems in the Chicagoland area for 55 years as of May 2020.
More on illi NewsABOUT JERON ELECTRONIC SYSTEMS, INC:
A leader in communications systems for the healthcare and life safety industries, Jeron Electronic Systems, Inc. is the engineering and manufacturing force behind Provider Nurse Call and Pro-Alert Area of Rescue Systems. From its founding in 1965, Jeron has earned a solid reputation for innovation, quality and service. Jeron products are engineered and manufactured in the USA. For more information please visit,
https://jeron.com/jeron-contacts/healthcare-sales-contact/
Source: Jeron Electronic Systems, Inc.
---
0 Comments