Trending...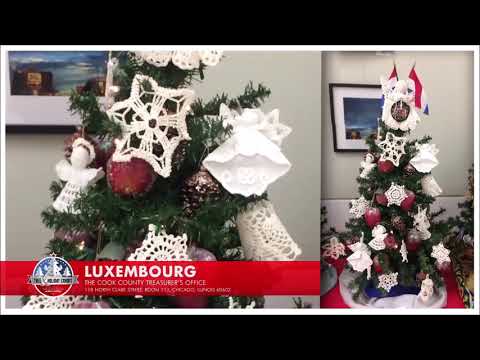 CHICAGO, Nov. 20, 2023 ~ This holiday season, Cook County Treasurer Maria Pappas is inviting visitors to view the 20th annual "Christmas Trees from Around the World" display. The display features nearly 100 3-foot trees decorated by members of various ethnic and religious communities to represent their heritage.
In addition to the trees, a Christian Nativity scene, an African American Kwanzaa Kinara, a Hindu Prayer Thali and a Jewish Menorah are also on display. The decorations include ornaments, tinsel and lights as well as animals, flowers, fruit, candles, plates, boats, stars, flags, dolls and other items.
"This celebration of diversity marks its 20th year as a Chicago holiday tradition," Pappas said. "People working or shopping downtown are invited to visit the Treasurer's Office, see the beautiful decorations and learn how different cultures celebrate the holidays."
The display will be up from Monday Nov. 27 until Jan. 2 in Room 112 of the Cook County Building at 118 N. Clark St., Chicago. Countries and traditions represented by the trees include African American Albania Argentina Armenia Assyrian Australia Austria Bahamas Bangladesh Barbados Belarus Belgium Belize Bosnia and Herzegovina Brazil Bulgaria Canada Canada-Quebec Carpatho-Rusyn China Colombia Cornwall Costa Rica Croatia Cuba Czech Denmark Dominican Republic Ecuador Egypt El Salvador England Eritrea Estonia Ethiopia Finland France Germany Greece Guatemala Haiti Honduras Hungary India Iran Ireland Italy Jamaica Japan Jordan Kosovo Laos Lebanon Lithuania Latvia Luxembourg Mexico Native American Nepal Netherlands New Zealand Nigeria North Macedonia Norway Pakistan Panama Peru Philippines Poland Puerto Rico Romania Russia Scotland Senegal Serbia Slovakia Slovenia Spain Sweden Switzerland Syria Taiwan Thailand Ukraine United States Uruguay Vietnam Venezuela Wales.
More on illi News
Pappas encourages visitors to take advantage of this opportunity to learn about different cultures during this festive time of year. A photo of a past display is available at
https://www.cookcountytreasurer.com/newsarticle...
and B-roll video of a past display is available at
https://www.youtube.com/watch?v=OphAeb61AoU
for those who cannot make it in person this year.
---
0 Comments